1.The Meiji era when we pushed forward step to harbor city that fixed its eyes on the world
Move big in the harbor facilities improvement of Yokohama Port
Large san bridge or breakwater of the north ・ east are completed in 1896. After this first construction, Yokohama Port was reborn as port which had safe anchorage and stepped forward to the first step to harbor city.
Industry is activated, and, after the Sino-Japanese War of 1894-95, quantities of trade increase. Ships which appearance entered in Yokohama Port increased. However, design that cargo boat approximately six can just arrive at large san bridge. Cargo boat which could not arrive anchored in the offing, and loading and unloading of baggage went in small boat. Yokohama Chamber of Commerce and Industry requests expansion of anchorage area and enlargement of wharf in the customs in order to break lack of the chronic harbor facilities. In 1898, Director-general of Customs Yokohama receives this and makes plan that incorporated quay and railroad laying that big ship can come alongside the pier. We suggested to the Minister of Finance and got approval. In 1899, harbor construction construction would be carried out in this way for the cause of the Ministry of Finance jurisdiction, second period around new port Wharf.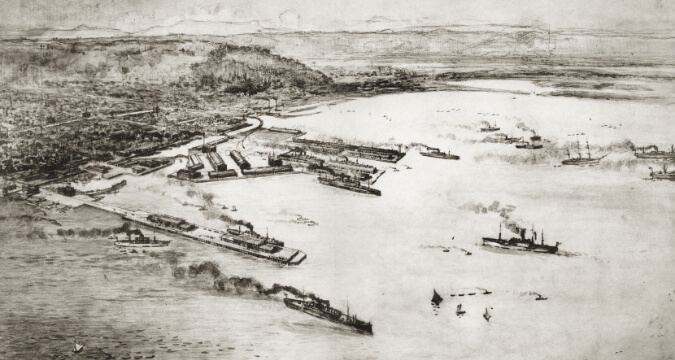 Since 1914 all the time new port Wharf
Watch
Hammerhead crane
Crane for exclusive use of first Japanese gulf Port cargo work was maintained in western breakwater of new port Wharf in 1914. By large crane made in British ko-wansu ・ Sheldon Corporation, we could carry steel materials and heavy goods to up to 50 tons, and called, and it was got close to "hammerhead crane" by shape similar to hammer. Construction method suitable for the soft ground and the ground with high water level under the ground ※We might not be injured by the Great Kanto Earthquake because we made strong underwork in this. By introduction of crane, loading of heavy goods is enabled directly, and work efficiency improves markedly. When the 1970s begins, becoming advances, and container finished the role, but, even in now that passed from construction more than 100 years, watches the sea of Yokohama as symbol of new port Wharf.
In 2018, it was enrolled in engineering works inheritance as precious historic remains of an ancient structure.
※Pneumatic caison foundation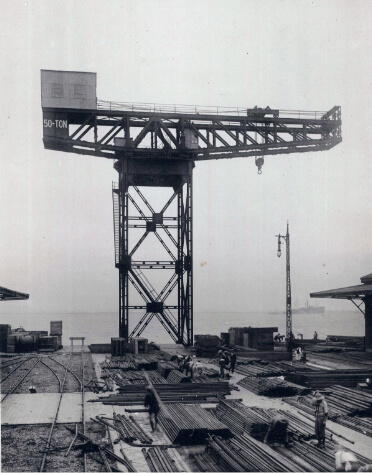 It is the first in Japan! It is latest in those days
The tagging quay method harbor facilities
In 1917, new port Wharf was reborn as the harbor facilities of first Japanese full-scale "tagging quay method".
Cargo-passenger boat and cargo boat of 13 could come alongside the pier at the same time and, as wharf latest in those days where 14 customs sheds, brick warehouse two, crane 19, power station were maintained, attracted attention.
Furthermore, railroad linking first Yokohama Station (current JR Sakuragicho Station) is laid at port to carry silk goods or raw silk for export. Not only freight but also person came to progress from 1920, and it was used by many passengers and pickup and drop-off visitors.
New port Wharf took central role of Yokohama Port until the 30, Showa generation.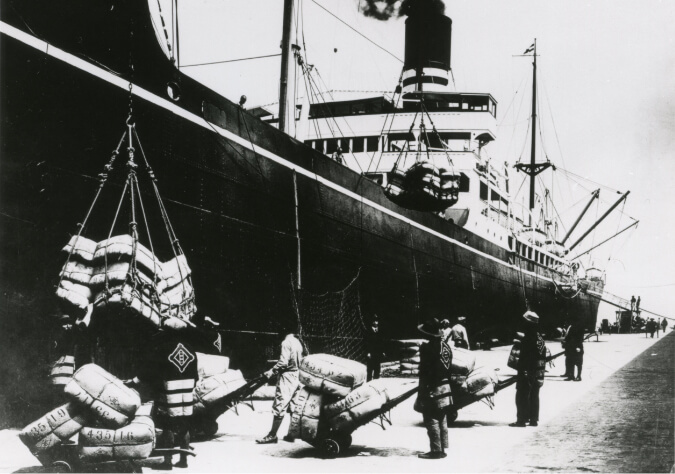 2.Doorway ・ new port Wharf to foreign countries filled with turnout
Passenger ship calls at a port increase! Europe and America route
In the times when we expanded and created gaiety
From the late 1920s through the 30s, many passenger ships called at a port of new port Wharf shop University bridge from the world. We make excellent passenger ships such as the Asama-maru, Chichibu circle in sequence in Japan and put into air route on the Pacific and Europe route, South American line. Yokohama Port reached the gorgeous times when domestic and foreign new ships or round-the-world trip cruise passenger boats came and went.
In the 4 quay, in the San Francisco route, 9 quay, Europe route arrived and departed mainly mainly foreign cruise passenger boat, Seattle route in large san bridge. "Empress ・ of ・ Britain" where it entered port for the first time in 1932 to have attracted attention conspicuously of the U.K. Crowd of people was able to do it day after day to have a look at luxurious passenger liner of 40,000 tons of largest classes in those days.
As for God, Babe Ruth of baseball
We got down on new port Wharf!
In new port Wharf, many celebrities crossed the sea all the way from all over the world.
Babe Ruth United States major leagues team that Mary ・ pig Ford of super star, Douglas Fairbanks and actress of Hollywood was praised with "God of baseball" in 1934 in 1932 by San Francisco route passenger ship which was star route at the time visited Japan.
As passenger ship terminal
Full facility which supported turnout
In 1927, in the case of earthquake disaster restoration construction, passenger ship terminal was founded in customs shed of 4 quay. Steel frame structure 2 stories, total of acreage are 3,250 tsubos. It was dignified building facing large san bridge.
In the first floor, facilities such as waiting room and stand, accouterment inspection place were made in particular in the center on the second floor examination with tool for trip ground and office other than freight depot by passenger waiting room, both sides.
In this way, 4 customs shed where North American route arrived and departed was equipped with facilities more than anywhere else. It is indicated that North American route was focused on in particular in Yokohama Port.
Tokyo Yokohama Port Station is about 40 minutes!
Passenger train excellent at convenience
With new establishment of passenger ship terminal, passenger platform for Yokohama Port Station was made in landside of 4 customs shed, too. To start on a voyage of biweekly San Francisco route passenger ship, boat train (boat train) was operated.
From Tokyo Station to Yokohama Port Station, it is about 40 minutes through Shimbashi, Shinagawa.
The Pacific War broke out in 1941, and this boat train was operated until route stopped and carried many passengers and seeing off visitors.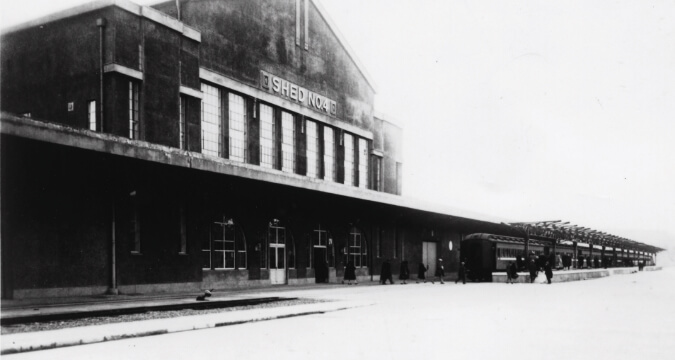 3.The GHQ requisition. And do well; again
11 years called "CenterPEER"
When World War II began, Yokohama Port was placed under management of the military, and transportation corps of army and navy used new port Wharf. We were requisitioned by GHQ (the alliance national military general headquarters) when we faced the end of the war in 1945, and new port Wharf was called "CenterPEER".
Of ship which quay and customs shed, warehouse of new port Wharf, function of 90% of gulf Port facilities including railroad are taken up, and is necessary for trade was not able to arrive and depart. Therefore income by trade disappeared, too, and finance of Yokohama-shi received big blow.
Yokohama-shi strongly works on country and the military for many years, and it is about 1956 that most of Yokohama Port became derequisition. Still full-scale return did not come true, and, as for part of the wharf, the requisition continued until the Heisei period.
We changed from "people" to "thing"
The period of high growth
In the late 1950s when world economy was booming, trade promotion plan of the government is realized, and Japan enters for the rapid economic growth period. nyukosekisuu ・ tonnage of Yokohama Port, the handling freight flows grew to about 4 times for ten years from 1955 through 1965, too.
In this way, without enough quays of new port Wharf, it is actualized "to include ship" that cargo boat is congested. As countermeasure, extension works of quay and maintenance of new wharf were pushed forward at a fast pace.
When it was the after 1970s, the use of container entered the mainstream of ocean freight transportation. However, site was small, and shallow new port Wharf of the depth of the water was not able to support this.
By creation of Honmoku-Futo ・ Daikokufutou, port spread outside, and new port Wharf gradually reduced role as distribution facility.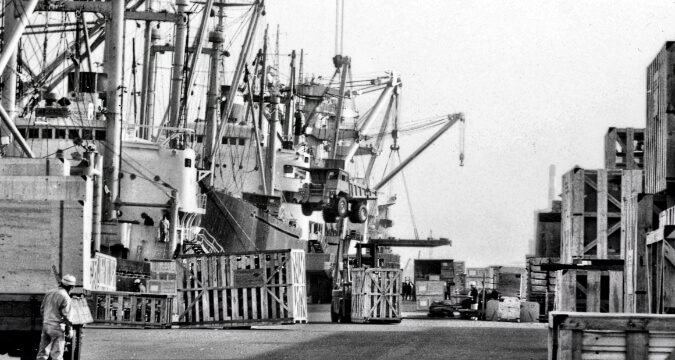 To new stage which utilizes world heritage, and connects city and port
City planning "Minato Mirai 21 business" that was announced in 1981.
In business to make water and "the new downtown area" among green, new port Wharf occupied big position. And we spent time called about ten years from 1996, and green tract of land and commercial facilities, amusement park, hotel, government offices were built, and new port Wharf was reborn as place that had function of city.
In addition, redevelopment is carried out, and culture facility and commercial facilities renew red brick warehouse which is landmark architecture of port as "red brick park" which fused in 2002. After that invitation or shopping mall of facility open one after another in sightseeing ・ leisure, and, in Minato Mirai 21 district including new port Wharf, it is in famous sightseeing spot competing for 1, 2 in Yokohama.
And it is going to increase new charm to tie city and port to new port Wharf as "port of passenger ship" in the autumn of 2019.